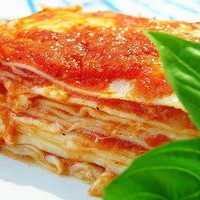 Some people think lasagna is hard to make, but it really isn't, especially this version. This is the first time this recipe has appeared anywhere in print. It's even better the next day! My mommy taught me how to make it!
This can also be made without pre-boiling the noodles to make it even easier.
Ingredients
1 box of lasagna noodles
2 bags of shredded mozzarella cheese (or shred one block of mozzarella)
1 container cottage cheese (or ricotta cheese)
1 egg
tomato sauce (see below)
parmesan cheese
Directions
To make the tomato sauce:
Combine 1 large can of tomato sauce, 1 small can of tomato paste and 1 can mushrooms in a pan. (add browned hamburger if desired)
Stir in spices to taste. (I use Worcester sauce, oregano, garlic powder and salt.)
Heat and simmer.
Boil lasagna noodles as directed.
Combine egg and cottage cheese.
Divide mozzarella cheese in to thirds.
Preheat oven to 375 degrees.
Assembly:
Spread small amount of sauce on bottom of 9×13 baking pan.
Place three noodles lengthwise on top of sauce.
Spread 1/3 of sauce on top of noodles.
Spread 1/3 of cottage cheese mixture on top of sauce.
Sprinkle 1/3 of mozzarella cheese on top of cottage cheese.
Repeat noodle, sauce, cottage cheese, and mozzarella cheese layering two more times.
Top with parmesan cheese.
Cover with foil and bake for 30 minutes.
Remove foil and bake for another 15 minutes.
Take out of oven, replace foil and let stand for 10 minutes.