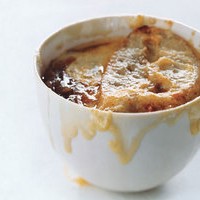 Ingredients:
2 lbs yellow onions
2 tbsp butter
2 tbsp flour
2 tbsp olive oil
4 cans (14 ounces each) beef broth
1 cup water
2 cups grated swiss cheese
1 Loaf French Bread
Pepper
Preparations:
Cut onions into small slices.

In a large pot, heat butter and oil at medium heat. Add onions, pepper and half a cup of beef broth…cook for 10 minutes until onions soften.

Reduce heat to low, add rest of beef broth and cook slowly for about 90 minutes, stirring occasionally until onions are dark.

Stir in flour and cook for 2 minutes.

Stir in water, simmer at medium heat for 10 minutes.

Heat oven to 400 degrees. Cut bread in 1-inch pieces, place on baking sheet and bake until dry, about 5 minutes per side.

Pour soup into heat-proof bowls, float bread pieces on top, and cover with grated cheese.

Broil 2-3 minutes until cheese is bubbling. Serve with French bread.