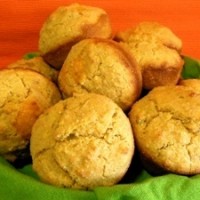 This recipe is simplified slightly and adapted to include fresh corn, and comes from the brilliant book Flour: Spectacular Recipes from Boston's Flour Bakery + Café by Joanne Chang.
Ingredients:
2 3/4 cups all purpose flour
1 cup medium-coarse yellow cornmeal
2 teaspoons baking powder
1 teaspoon baking soda
1 teaspoon kosher salt
¼ cup unsalted butter, melted
¾ cup packed light brown sugar
3 eggs
1 cup milk
1/3 cup canola oil
¾ cup sour cream
1 cup fresh corn (cut from 1 ear)
Preparation:
Makes 24 small or 12 standard bakery size muffins

Heat oven to 350 degrees F. Butter, spray or line muffin tin.

Gently sauté the corn with a small amount of butter, until softened and bright yellow. Remove from heat and set aside.

In a large bowl, stir together the flour, cornmeal, baking powder, baking soda and salt until well mixed.

In a large bowl, whisk together the butter and sugar until it forms a thick slurry. One at a time, whisk in the milk, the oil and the sour cream. Whisk in the eggs one at a time. Fold in the dry ingredients gently until well combined. Fold in the corn. The batter will be thick and pasty.

Fill muffin cups to the rim and bake for 25-28 minutes, or until the edges of each muffin are golden brown and the center springs back when pressed with a fingertip. Let cool 20 minutes and remove from pan.

Optional but recommended: Fill muffin cup half full, add a small spoonful of raspberry jam in the center, and top with remaining batter.