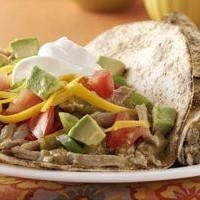 I'm not sure how much extra flavor the dried apricots added (plus, they're quite expensive), so I leave them out now. A tasty departure from the typical beef or chicken taco recipe. Adaptaded from Taste of Home.
Ingredients:
1 boneless pork sirloin roast (2 pounds), cut into 1-inch pieces
1-1/2 cups salsa verde
1 medium sweet red pepper, chopped
1 medium onion, chopped
1/4 cup chopped dried apricots
2 tablespoons lime juice
2 garlic cloves, minced
1 teaspoon ground cumin
1/2 teaspoon salt
1/4 teaspoon white pepper
Dash hot pepper sauce
10 flour tortillas (8 inches), warmed
Reduced-fat sour cream, thinly sliced green onions, cubed avocado, shredded reduced-fat cheddar cheese and chopped tomato, optional
Preparation:
In a 3-qt. slow cooker, combine the first 11 ingredients. Cover and cook on high for 4-5 hours or until meat is tender.
Shred pork with two forks. Place about 1/2 cup pork mixture down the center of each tortilla. Serve with toppings if desired. Yield: 10 servings.