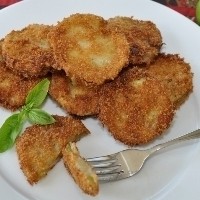 Sara Freeman gave me some tomatoes from her garden but they were not red. I put in a special request for green tomatoes so I could make my favorite late summer dish which is fried green tomatoes. Sara said she never has tried them so she found a recipe on line but told me they didn't turn out very well. After she told me the recipe I understood why they didn't turn out. Here's how I make mine to be tasty and delicious every time. It's kind of a grandma recipe with no measurements but you will need:
Ingredients:
2-3 green tomatoes sliced
A little flour
1 stick of butter
1 large beaten egg
Cracker crumbs-not too finely ground…you'll want some crunch
Salt and pepper to taste
Preparation:
Melt the butter over medium heat in a large skillet. Add the salt and pepper to your cracker crumbs. Coat the tomato slices with flour, dip in the egg wash and coat with the cracker crumbs. Arrange in a single layer in the skillet and let fry until brown then flip. It's a tangy treat. Try it and see what you think.