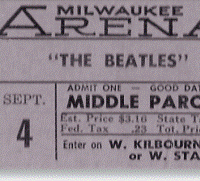 Fifty years ago this week, the Beatles landed in America, played on "The Ed Sullivan Show," and changed millions of lives, along with the very course of history. While a certain degree of Beatlemania was happening everywhere in the spring and summer of 1964, it got an extra jolt of intensity in Wisconsin in September, when the Beatles played a concert at the Milwaukee Arena during their second American tour.
About 12,000 tickets were sold for the September 4 show, priced from $3.50 to $5.50, which was a lot of money 50 years ago–equivalent to between about $25 and $40 today. The show began at 8:00 that Friday night with several opening acts: Jackie De Shannon, the Exciters, Bill Black's Combo, and Clarence "Frogman" Henry, a soul singer who replaced the originally scheduled Righteous Brothers. Milwaukee DJ Eddie Doucette (later famous as a sportscaster) introduced the opening acts; another DJ, Bob Berry, introduced the Beatles themselves, after turning down the job at first because the concert promoter wasn't going to pay him to do it. The headliners hit the stage at about 9:10 and played for maybe 30 minutes before heading to their hotel, the Coach House Motor Inn on Wisconsin Avenue (which is now a Marquette University dorm).
The Beatles stayed in Milwaukee until the next afternoon. Before they left town, Paul McCartney made a brief phone call to a hospitalized 14-year-old fan who'd had a ticket to the show but couldn't go. She would have talked to him forever, of course, but he had to cut the call short because the band had a show in Chicago that night. And after a little more than 24 hours in Wisconsin, the Beatles left.