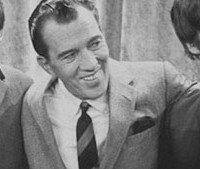 I'm not old enough to remember the Beatles on Ed Sullivan 50 years ago, but I recall a house full of siblings that became instant Beatles fans.
"I want to hold your hand" is the first song I can remember hearing, as my sister Chris listened to her "Meet the Beatles!" album repeatedly. Later I recall my brother Mike buying a 45 of "Twist and Shout" at Madison's "Treasure Island" store, and brother John demonstrating the supposed "I buried Paul" segment of "Strawberry Fields Forever" on his 8 track player.

It's said that your parent's music is never cool, but your older brother's always is. I'm sure this helped make me a Beatles fan. How big? One of my first exciting radio assignments as a teenage rookie was putting together my own 6 hour Beatles show. Thankfully no tapes exist.
Over the years I've bought every original album, often getting the latest "re-mastered" edition. I have most of the compilations ("Anthology," "Red," "Blue," etc.) I also have lots of bootleg CDs of the studio sessions, because I'm a geek, fascinated with what happens behind the scenes.
On the night John Lennon was killed my Minneapolis station couldn't locate all his music, so I brought my "Greatest Hits" album from home. The first time I visited New York City I walked past "the Dakota" and felt a chill. Then I checked out the Ed Sullivan Theater, trying to imagine January 1964.
Maybe your parent's music can be cool. While in high school my daughter discovered the Beatles, started buying their CDs, went to see "Help!" with me at the Majestic Theater, and sat just a few rows from the stage at a Milwaukee Paul McCartney concert. I'm still paying the loan on the tickets, but it was worth it.