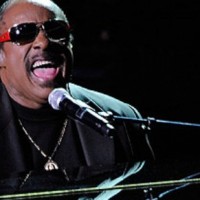 Stevie Wonder sang at the Grammy Awards last month, but I couldn't stop watching the other musicians on stage that were awed by his presence.
In 1988, I attended a radio broadcasting convention in Dallas. One event was a cocktail party dominated by bigwig network executives and station owners. Someone got on stage to make obligatory opening remarks and bad jokes, and then he said "Ladies and gentlemen, we have a surprise for you." The lights dimmed, the crowd went quiet, the curtain went up … and there, alone at his keyboard, was Stevie Wonder.
He sang a new song, then "Superstition." I really can't remember much else. I was awed to be in his presence.