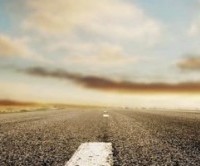 If you are reading this blog post, that means I am still on the Magic payroll, although I haven't been on the air much lately. I have another job that requires me to travel from time to time, and that's where I've been.
Killing time in a hotel one night, I came up with a list of "road" songs you might know, starting with a few from the 80s. "The Valley Road" by Bruce Hornsby and the Range was a Top-10 hit in 1988; John Fogerty's "The Old Man Down the Road" hit the Top 10 in 1985, and "On the Road Again" by Willie Nelson did the same trick in 1980. There was "Middle of the Road" by the Pretenders as 1983 turned to 1984, Barry Manilow's "Somewhere Down the Road" in 1982, and the Eagles' final single, "Seven Bridges Road," which spanned 1980 and 1981.
"The Long and Winding Road" by the Beatles was a #1 hit in 1970, John Denver's "Take Me Home Country Roads" was top 10 in 1971, and "Goodbye Yellow Brick Road" by Elton John was huge in 1973. Other notable road songs of the 70s include "Ease On Down the Road," from the soundtrack of The Wiz, which was a hit twice, once for Diana Ross and Michael Jackson in 1978 and three years earlier by a group calling itself Consumer Rapport. James Taylor did "Country Road" in 1971, and in 1970, Marvin Gaye hit with "The End of Our Road," which was the first song heard on the first American Top 40 show.
If you'd like to hear and read about a few more road songs, and learn a little about my recent road trip, visit my personal blog, right here.