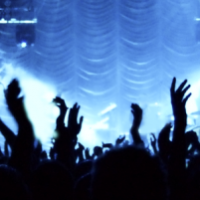 If you are a 70s music fanatic (and odds are good that you are), these are good times in Madison. Chicago plays Overture Hall on April 28th, and two more high-profile shows have been booked for the summer. On July 16th, Jackson Browne is scheduled to play Overture Hall. It's an acoustic show–an article in Billboard says he's likely to accompany himself from a rack of guitars and a keyboard, playing songs and telling stories from his 40-year career. One month to the day after that, on August 16th, Steely Dan is set for Overture Hall.
(Steely Dan was in Milwaukee just last summer, and it's interesting to me how a band that so badly hated touring back in the 70s seems to be on the road all the time now. What's different today, Donald Fagen has said, is that the band can pick its spots and create a livable schedule, although the 2014 tour schedule is pretty rigorous for guys in their 60s, as Fagen and his partner Walter Becker are.)
Want to road-trip to Milwaukee? Summerfest has put together its usual eclectic lineup around the Fourth of July, and it's been rolling out the stars for quite a while now. A few new ones were announced just this week, including Rick Springfield and Ingrid Michaelson. Others booked for the grounds stages on Milwaukee's lakefront include Michael McDonald, REO Speedwagon, Bonnie Raitt, Kool & the Gang, Melissa Etheridge, and Cheap Trick, along with some newer acts you've been hearing on Magic lately: A Great Big World and Neon Trees. The Wisconsin State Fair may have landed the biggest star of all, though: Aretha Franklin, who'll play the main stage on August 5. Lady Antebellum and Alabama will headline Fair shows too.
Don't forget Bratfest over Memorial Day weekend in Madison, which welcomes Bret Michaels, formerly of Poison, for a bit of late-80s flash, as well as a ton of favorite local bands including Lube, Kings of Radio, the Love Monkeys, Madison County, and the Madison Jazz Orchestra.
And it's since only April, the odds are good that more great shows are yet to be booked for the summer of 2014. Stay tuned.