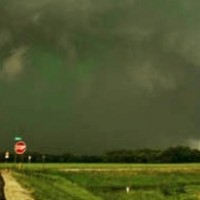 Severe weather season is here. Most people don't know this about me, but I happen to be a weather nerd and a storm chaser. When the skies turn dark, I sometimes hop in my car and follow the clouds. I am fascinated by tornadoes and how they form and by the terrible destruction they leave behind.
I've only seen one tornado in my life and that was the Stoughton tornado. I remember sitting in my living room watching Gary Cannalte break in with all his severe weather reports. Mostly, he was warning of severe thunderstorms popping up here and there, so I went outside to look at the clouds and I got the strangest feeling the second I stepped out the door. The sun was shining and everything was very, very still … and silent. Not even the birds were singing. And as I was standing there on my steps looking at the sun setting in the west, pieces of paper and other debris started to float down around me. My first thought was, "Well, this can't mean anything good". So my eyes turned towards where there WERE clouds in the sky to see if I could see any rotation happening. That's when I saw IT! I ran in the backyard because I literally could not believe what I was seeing. A very large tornado that, at the time, I would have guessed was EF3 in size. It was rotating very slowly … almost dream like. I could not tell how far away it was from where I was standing. All I thought was that where ever it was headed it was going to do some serious damage. I remember saying out loud, "That is going to hurt someone … that is going to HURT SOMEONE!" So, I ran in the house and called police to tell them my location and what I had seen.
A few minutes later Gary was on the TV saying a large tornado was on the ground headed towards Stoughton. I got in my car and drove to Stoughton. The tornado had just gone through. I saw where it had carved its wide path through a corn field. I saw people wandering around in a daze. I saw the poles down and the cars scattered along the road. I drove up 51, but already police were there closing sections of it down, so I had to turn around and go back. An overwhelming feeling of sadness came over me and I remember crying for the people who had to go through this.
If we have a tornado watch posted this spring and summer, I will be watching the sky and I will want to go chase the clouds. However, I do have a greater appreciation and healthy fear of what nature can do. I'll never lose my fascination with tornadoes, but I know that amateur storm chasing can be dangerous, so I will keep my distance.