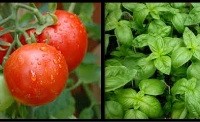 There were several days during this past treacherous winter when I found myself thinking, "I'd much rather be pulling weeds in my garden than shoveling snow and dealing with these insane wind chills!" And now, I get to pull weeds again soon because we're close to planting our 2014 garden.
My husband and I love to grow tomatoes (especially those cute little yellow pear tomatoes), strawberries, cucumbers, honeydew melons and lots of hot peppers. My husband must have Teflon lining his stomach, because he can eat an entire fresh jalapeno pepper without batting an eye. If you haven't bought your plants yet, I highly recommend Jung Garden Centers. They've been in business since 1907, so they know a thing or two about growing a garden!
Now, if they could just invent a self-weeding garden, we'd be in horticulture heaven!