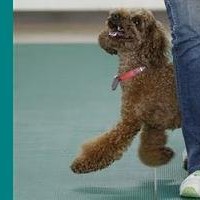 This past Sunday was graduation day for Truman from The Dog Den's Freestyle 1 class of 2014. After several weeks of learning how to "dance," Truman had his performance final and, while not perfect, he gave a stellar performance none the less. I, on the other hand, noticed I really need to work on my form after viewing the video of our final performance.
Our final dance was done to Peaches & Herb's "Shake Your Groove Thing." Truman had some smooth moves like taking a bow, spinning, twirling, a couple of jumping high fives, a few leg weaves and staying in the down position while I danced around him in a circle. I was going to incorporate a hula hoop into our performance but found he likes to grab and run with the hula hoop more than jumping through it. It's very cute but didn't fit my vision for our routine.
It was really a fun class and I think we're ready to take Freestyle 2 this summer. I know Truman loved it. He would get excited whenever I asked him if he wanted to practice dance. It was a good way for us to bond even more while getting some exercise in the process.