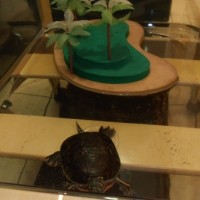 Friday morning, Joe was presented (ta-da!) from behind rolling portable walls to some 34 tots and their families at Olbrich Gardens On the Pond series. Presenter Jennifer Sterling first read Melvin the Turtle.There were creative turtle projects for the little ones to make, and then there was time to visit the real thing – Joe.

I brought him over to the kids in his turtle carry case. (He loves being in it because he knows it means he's going out.) Olbrich Gardens had filled up a big tank for him (with R.O. water). I brought the "mermaid island" from his home tank as a security spot in case he would be shy. I worried for nothing … he was as laid back as a cool cat! He swam, hid, ate and didn't mind me picking him up over 20 times to show off his webbed feet. He even left a treat under the floating island to show what turtle doo looks like! That's very important to know if you are considering getting a turtle for a pet.

There were a few kids who just wanted to climb in with him or take him home. As Joe has been living with me for 25 years now, they understood it would really be better if they got their own. It was fun … and Joe took a very long nap when we got back home.