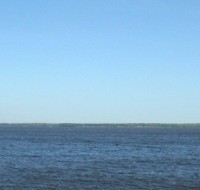 THE first camping trip of the summer was a great success. One never knows what to expct weather-wise on the Memorial Day holiday. We have survived torrential rain, bone-chilling cold, you name it … but this year was picture perfect. The temps were in the upper 70's with little to no humidity and, best of all, no mosquitos!

We set up camp at an, until now, unknown to me park in Adams county. I've heard of it over the years and now I can truly recommend Lake Petenwell Park. It sits sort of in the middle of nowhere. A tribute to that is the fact that you have to drive a bit to get a cell phone signal. AWESOME! At any rate, it's on.

Next we head to the Door …Door County that is. There's a cool beer festival in Jacksonport on the lake side in June. We're all going up. Our friends, the Wise clan, will be staying in their luxurious condo in Egg Harbor. We will, as always, be camping in Penninsula State Park. It's a real gem. We even had personalized T-shirts printed and emblazoned with the phrase "Stay Calm and Drink Like A Bonner."

Should be a blast!