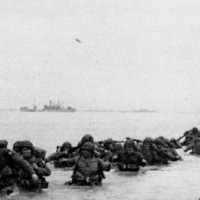 It was a dark and stormy night. I had been asleep for several hours, but woke up to this on the radio, and it was both frightening and fascinating:
.
To mark the 70 years since "D-Day," Norman Gilliland was sharing the 1944 NBC war coverage with his Wisconsin Public Radio listeners.

It's hard to imagine the fear the French must have felt, being told to leave their homes and head to the woods.

On the list of "Things I wish I had asked my parents about" is "D-Day." Both were in their early 20s at that time. Come to think of it, I don't know where they were on December 7, 1941 when the war began, or what they experienced when it ended in 1945.
I think I need to go beyond seeing Saving Private Ryan to understand what this all meant.