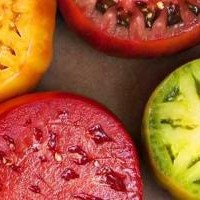 This year I went hog wild with my landscaping. I figured since Spring took so long to get here, I might as well take full advantage of being outside now that it finally IS here. So, I have flowers planted in window boxes and containers and along the side of my house. It took a few days to plant them all, but boy do they make me happy when I pull in the drive every day after work. One of the first things I do when I get home is get out the hose and water them, dead head the old flowers and move pots around to make sure they're all getting enough sun.
The other thing I've done with my landscaping is add a new bird feeder system. It's one of those feeder pole systems that allows you to add all different kinds of feeders. I have a new Oriole feeder this year along with a hopper, a finch feeder and another tube feeder that is squirrel proof. Each one has different types of seed, so I'm hoping to get all different types of birds all year long.
And of COURSE, I planted tomato plants this year. Wisconsin 55s! I wanted to grow big tomatoes this year so I will have plenty of green ones to fry in a couple of months. If you've never tried a fried green tomato, you don't know what you're missing. You'll find my easy recipe for them here.