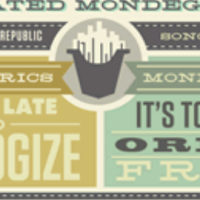 Every time I hear Kelly Clarkson's song "People Like Us," I don't hear it the way she sings it. I don't hear the line "We're all misfits living in a world on fire." I hear "We're all dipsticks living in a world on fire." There's a word for this phenomenon: it's called a "mondegreen," the mishearing or misinterpreting of something said or sung that gives it an entirely new meaning. (The title of this post is one.)
It seems like a lot of the best mondegreens come from the 60s and early 70s. The Beatles' "Lucy in the Sky With Diamonds" contains a line about "the girl with kaleidoscope eyes." People sometimes hear this as "the girl with colitis goes by." You'd rather have kaleidoscope eyes. When I was a kid first listening to "Get Back," I heard the line "Jojo was a man who thought he was a loner" as "Jojo was a man who thought he was a woman." The Creedence Clearwater Song "Bad Moon Rising" contains the line "There's a bad moon on the rise," which is often misheard as "There's a bathroom on the right." Elton John's "Your Song" does not go "I sat on the roof and kicked off the moths." It's AT THE MOSS. In his song "Purple Haze," rocker Jimi Hendrix sang "Scuse me while I kiss the sky," which somebody transformed into "Scuse me while I kiss this guy," which became the title of a book about musical mondegreens.
Something more recent? How about "There's nothing that a hundred men or more could ever do" from Toto's "Africa." It's been misheard as "There's nothing that a hundred men on Mars could ever do." Or Bon Jovi's "Livin' on a Prayer," in which the real line "It really doesn't matter if we make it or not" is vastly different from the misheard "It doesn't really matter if we're naked or not." Because it clearly does matter.
You can browse a few hundred more of these (some rated PG-13) at KissThisGuy.com. I'm not sure all of them are real, though. It takes a pretty dim bulb to hear "Hold on to that feeling" in Journey's "Don't Stop Believin'" as "Hold onto that fetus," but I suppose anything is possible.