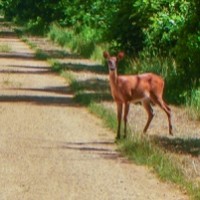 I was fortunate to have a full week off in late June, and Mother Nature cooperated with some nice weather. I recently bought my husband a new Trek bike, so we loaded up our bikes for a couple of overnight stays in Mequon and Stevens Point. We fell in love with the Ozaukee Interurban Trail. It's 30 miles long and paved the entire way, so it's a little less demanding than biking on a crushed limestone trail. We biked from Cedarburg to the edge of Saukville and back, then enjoyed a cold one at Silver Creek Brewing Company.

The next morning we headed to Stevens Point and rode the city's Green Circle Trail. It's a wonderful trail that has you biking through residential neighborhoods, forest preserves, and along the Wisconsin River. You definitely won't get bored with the scenery on this 25+ mile trail. My tailbone had had enough after about 20 miles, but I had no choice other than to keep pedaling to get back to our truck!

I highly recommend these two trails for your family's next biking adventures!