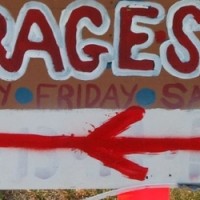 I am a garage sale junkie. I love going to them (even if I never buy anything) and I love having my own garage sales. I usually have one every three or four years. It's just enough time to let more stuff accumulate and for everyone who shopped at my previous sale to forget what I had that they didn't want the first time.
So, this is the year that I am having another garage sale and boy, I'll tell ya', it is a LOT of work. It takes time to go through every closet and drawer in the entire house. But that is what I'm doing to make sure I really clean house this time around. I started with the upstairs. Two bedrooms and a bathroom took an entire afternoon. Then there was the kitchen. Ah, yes. The kitchen. The place where most of us have more than one junk drawer and cupboards too high to reach crammed full of old coffee makers and waffle irons that never get used. Not to mention all those old coffee mugs and flower vases. You know the ones.
This week I am tackling the basement every day after work. I found an old vacuum, humidifier, carpet cleaner and exercise equipment that have been sitting in a corner collecting dust for years. How many strands of Christmas lights do I really need anyway? I'll sort through those boxes tonight.
There is something refreshing and fun and cleansing about getting rid of old things that you no longer need or want. And the best part is seeing people get excited about the things you once loved and have them give those things a new home. Oh, and the cash….yeah, bringing in extra cash. It makes all my weeks of cleaning out, sorting, tagging, setting up and sitting in the hot sun for three long days totally worth it to me. LOVE garage sales.