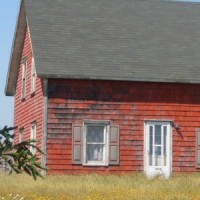 This little house sits all by itself on the island of Miscou. I am so enchanted with it that I am going to do a water color painting and write a short story about it. I have to smile to myself when I realize that so many people head to warm beaches for their vacation, while I went on a trip that had us drive 7 hours in the car from Maine. That gives you an idea how far north it really is!

The scent of wild roses and clover the size of golf balls blowing on the ocean breeze is my idea of a vacation! I'm sure I was a polar bear in my last life. My teenage cousins made pizza from scratch one night, fish taco's with fresh corn and pepper salsa another night. Aunt Lisa made her famous carrot cake and, of course, I made scones, quiche and new this year, hand pies with cherry/cranberry filling.

My French has improved, but I sure can't quit my day job on that!