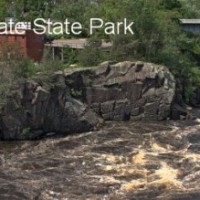 If you are looking for hot night life, I wouldn't reccomend St. Croix Falls, Wisconsin.  If you want a great place to camp, kayak and hang out - it's the place. Terri and I took a little jaunt to Interstate Park in St.Croix Falls.  It's a long drive, especially because we decided to take the Great River Road, Highway 35, that shadows the Mississippi and St.Croix rivers all the way. Great trip. 

We were able to stop at a bunch of the little towns along the way, full of all kinds of cool little shops filled with stuff you really don't need, but want just the same.  Interstate is a great camping spot right on the banks of the St.Croix.  There are tons of cool hiking trails that clearly show you what the place was like eons ago when the glaciers started to melt and 200 foot cliffs along the river on either side as you paddle along in your kayak.  Awesome!  Another cool thing about the St. Croix is all the free shoreline camping spots along the way.  Just paddle in, set up camp and stay the night. 

I recommend it highly, but as I say, bring your own after hours fun. It's in short supply in St. Croix Falls - and in the town just across the bridge - Taylor Falls, Minnesota.