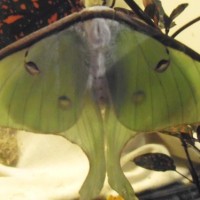 Even though my apartment is on Main Street in Stoughton,

I think the critters find my place to be a place they want to live at, too.

There was a bat visitor for a few nights, just hanging above the stairwell,

but I encouraged it to leave before it got too cozy. This one –

well – I've seen Luna Moths before, (I had one in my snapdragons

in the past) but this one – holy moly! If you look closely, it has a line of fur on the

edge of it's wings. He/she stayed two days. I wanted to keep

it, but I suppose it still had more joy to spread about. I just keep

my eye open for who else might visit.