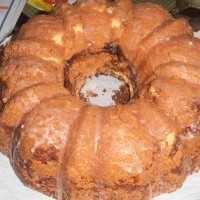 Preparation:
Preheat oven to 350 degrees.

Grease & flour fluted pan.

Set aside 2/3 cup chopped pecans,

4 table brown sugar,

1 ½ tea Vietnamese Cinnamon
1 cup softened butter with

1 tea vanilla extract
Mix next 6 dry ingredients:
1 ½ cups of natural sugar
Add to butter/vanilla mix. It will turn into little balls.
Add 2 farm fresh eggs –

one at a time – and beat in well.

Gradually add

1 cup sour cream.

If needed, use up to two tablespoon of 2% milk to make pourable.
Add half batter to pan. Add half nut mix over batter. Add rest of batter on top and then add rest of nut mix over the top. This will make a sweet crunchy bottom when inverted.
Bake 45 to 50 minutes. Check with sharp knife for doneness. Pull off any over cooked

pecans. Cool for 10 min before inverting onto parchment papered plate.
Glaze:
Mix 1 cup of 10 x powdered sugar with

4 tsp water,

½ tsp almond extract &

approx 1 tbs 2% milk until desired texture to drizzle over top.
Voila … get the coffee!

Editor's note: This recipe won the coffee cake contest at the Stoughton Coffee Break Festival in August 2014.