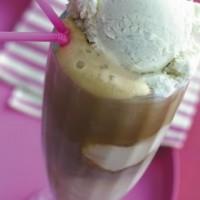 If you know where I can find a good chocolate soda please be in touch. I know where to find a bad one. A Madison area fast food place has it on the menu, but the staff is baffled when I order it. Once they made it with chocolate ice cream – wrong!
Ella's Deli serves a "Black and White Soda." The menu says "chocolate flavored soda with vanilla custard ice cream." I wish Bridgeman's was still around Madison, they had great sodas and malts.
As I continue my search, you might want to try this recipe:
Ingredients:
3 tablespoons chocolate syrup
Vanilla ice cream
Club soda
1/4 cup milk
Preparation:
Stir milk and syrup in a tall (chilled) glass until well blended. Add 2 scoops ice cream, fill remainder of glass with club soda.