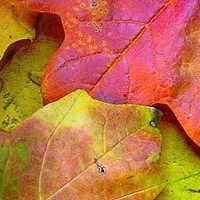 "The days grow long. And soon I'll hear old winter's song."
Autumn Leaves – Johnny Mercer

Maybe those words explain the slight melancholy I go through this time of year.
I really don't know why. As a kid I never liked seeing summer end, but no kid does, and I liked school.
Just yesterday I got two mosquito bites in two minutes. I'm not a gardener or baseball fan. I run from bees. I like October weather more than July, as does my dog, so that's not it.
Apparently I'm not alone. Ginger Martin claims the sound of crickets at night reminds her that summer's almost over. Bob Bonner says fall reminds him that winter is next.