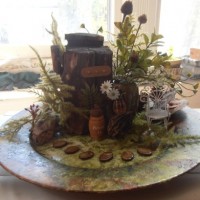 This is one of my entries for the very first Celebrity Plate Auction for the River Food Pantry . Fellow Magic 98 worker, Pat Gallagher,
is in charge of the Harvest Dinner, a fundraiser that helps feed over 600
families each week.

The dinner and plate auction is
October 8 at The River Food Pantry, 2201 Darwin Road, in
Madison. He is still gathering these "step up to the plate"
projects. This one has a mini clay pot, made by Jennifer D.Wolfe, that I
have put artificial branches in, but they can be easily taken out to put in your
own real ones if you'd like. You can talk to Pat yourself if you
would like to know more by calling the pantry at 334-8237. In the meantime, I am working on another plate!