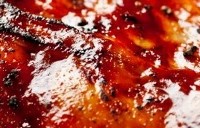 Man, I've lucked out big time. The people that organize Ribfest at the East Side Club every year have asked me back again to be a judge. This is such a cool event. First off, it's right on the lake. Secondly, some of the best rib cooks in the area come out and do their thing. If you don't have solid plans Saturday, you should come.

You can get tickets to taste all the competitors ribs, one that will get you a rib dinner made by the club's own grill masters or general admission tickets. Add to that the fact that the weather is supposed to be sunny and great … and all the elements are in play.

Oh, and did I mention that VO5 will be playing? What a great local band. They really know how to get people up and partying, so bring your dancing shoes! C'mon over to the east side Saturday, September 13. I guarantee you'll have a blast … and bring a bib if you you're a particularly messy eater like me. It's a saucy extravaganza!