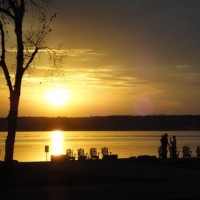 I grew up along the shores of Lake Michigan across the lake from Chicago. Very few people know this, but it has some of the most spectacular sunsets in the United States. It's actually known as the Sunset Coast and each year hundreds of photographers from around the world come to photograph those sunsets along the southern shoreline. And for as much as I love the beauty of Lake Michigan from my hometown IN Michigan there is one place on this beautiful body of water that feels even more like home to me. That place is Door County.
With nearly 300 miles of shoreline, it's a place where you can experience both a beautiful sunrise and sunset in the same day since the peninsula is only 18 miles wide. I always like to take the "road less traveled" on my way up each year to get unchanged glimpses of the shoreline. And yes, each year I feel compelled to take my annual trek to explore something new each time. Last year I took Truman with me for a week of hiking the endless state and county parks and sitting out by the water to enjoy the shore birds. A bald eagle flew within 20 feet of us along the shore and that was a sight I will never forget. (Also because Truman broke loose and chased that eagle along the shore for quite a way. I thought for sure that eagle was going to swoop down and pick him up and carry him away over Green Bay)
I know there are some who think Door County is too small or too isolated or too boring to stay more than a couple of days. Small, yes. Isolated, perhaps. But boring? Never! When I need to get away from everything and everyone and just unplug and get back to appreciating nature and the beauty of something beyond what we can create, my heart always draws me to this ethereal place. I applaud the Chamber and community members who are committed to keeping it just as it is. With 11 lighthouses to discover, 5 state parks and 19 county parks, 11 golf courses, 7 wineries, 2 islands and endless quaint places to stay and shop and eat, I never tire of venturing there. I make it a point to visit once a year, whenever I can, no matter what the season.
I love Door County so much my dream is to one day retire there. Yes, I know the winters can be unbearable. I know it can be expensive because of the limited grocery stores and non-existent malls and box stores. But the views. The beauty. To me that is what life is all about. I could live on that. But for now, I'll take my annual trip and savor every sunrise and sunset from the lake that has always called my name.