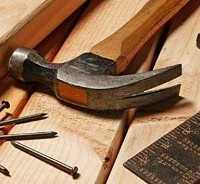 Who says ridiculously hard work can't be fun? My beautiful daughter Lizzy recently bought her first house and as is the case many times, it needed work. If you are a parent, you know exactly what that means. You put in the hours. My wife Terri and I have been helping Lizzy make her house a home. Tearing down and replacing drywall. Installing hardwoods. Painting, installing light fixtures, doing trim work – and the list goes on.

It really is hard work but because it involves spending time with the people I love the most, it's no biggie. It really is one of those experiences that we'll reminisce about for years to come. It's been great! And luckily, ol dad's contracting service is working out.

It is a cool transformation. I can see it in Lizzy's eyes that she's thrilled with the results. Granted, the job seemed daunting at first, but it's been nothing but cool. Now excuse me while I struggle to walk down the stairs to my car. This may take a while with my aching knees – but it's all good.