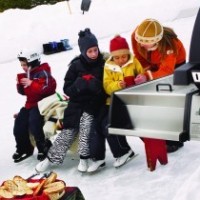 I'm always a little perplexed when people who claim to love to grill stash their grills away during the colder months. Winter grilling can be a blast! Of course, that's easy for me to say because I'm not the one shoveling a path to the grill and doing the grilling when the wind chill is zero 😉
My husband Keith happily does that work and loves to grill 12 months a year. It's become a Sunday night habit for us, and we probably grill about 45 out of 52 Sunday evenings per year. It's a great arrangement for our marriage: Keith gets to do something he loves and I don't have to cook much on Sunday nights!
If I've convinced you that you should give winter grilling a try, here's a helpful article to get you started.