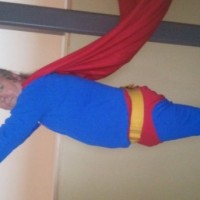 I really love Halloween. It was always fun when the kids were little. We'd dress up and take the kids around the neighborhood. It's still fun these days, albeit in a more adult style. I've got a Halloween party coming up this weekend and T & I are committed to going as the American Gothic couple – with a twist!

Problem: where does one shop for affordable lightly used bib overalls? If you've never had the occasion to look for them, I have to tell you it's no easy task. I have shopped all the Halloween costume meccas – Savers, Goodwill, St. Vinny's and nada. Now I know I can get a new pair at Farm & Fleet, but they are like 30 bucks. If am going to spend 30 bucks, I would want to get my money's worth, but where does one have the opportunity to wear bib overalls outside a Halloween costume party setting? Out to dinner? The movies? The Farmer's Market? See my point?

I could commit to trying to bring bibs back into Vogue, but I fear my efforts would be futile and not received well. I, along with many of my hip contemporaries back in the day, had bibs in our waredrobes that we wore with abandon – and looked so cool. But alas, bibs have gone the way of dickies and leg warmers. It could be time for a bib resurgence! Who knows, I might be known as that guy sporting the hip "down on the farm" retro look. Or, I may just end up looking like a "dork" trying to get his 30 bucks worth. Happy costume hunting.