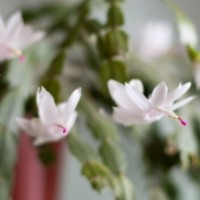 Twenty years ago I won a tiny little Christmas cactus at an office holiday party. It had pretty little buds on it that opened just a couple of days before Christmas.
I still have that Christmas cactus only it's not so tiny anymore. It has grown into a big, beautiful plant. And the bigger it gets the earlier it blooms. It's been very gradual, almost like it's trying to see if I will even notice. Oh, I've noticed. I went from calling it my Christmas cactus to my Thanksgiving cactus since that was when it was starting to bud and bloom. Well, now I'm going to have to start calling it my Halloween cactus because it was all full of blooms by October 31st.
I don't really care when it blooms just as long as it blooms. It makes me happy to know that plant is thriving and happy and wants to share its pretty white flowers. Now, if it starts blooming on the 4th of July that will be a bit troublesome. I'll have to blame it on global warming.