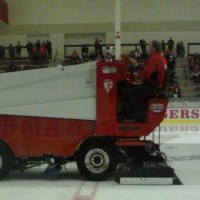 (Pictured: the La Bahn Arena Zamboni, as seen from the public address announcer's position on the ice.)
I have a personal blog that's mostly about music but sometimes about radio and occasionally about other things, and I hope you'll click over and read it sometime. I wrote a post there this week about my experiences as a public-address announcer for the Badger women's hockey team and a recent fill-in doing a women's basketball game. If you read it, I think you'll find out there is both more and less to the job than it might seem to you as a fan. Here's a story that I didn't have room for in that post.
When I first started doing hockey a few years ago, it was the PA announcer's job to find the coaches and get the starting lineups. (We don't have to do it anymore; the game's official scorer does it now.) There's a protocol for doing this. Coaches are not obligated to share their lineups until after the pregame warmups, which end 24 minutes before the scheduled face-off time. The PA job gets busy about 10 minutes before face-off time, so there was a very brief window for scaring up the lineups. Not only that, but the visiting team always gives theirs first, so that was always the first coach I had to find. And the first coach I had to find at my very first game was Jackie Barto of Ohio State, one of the most successful coaches in the history of the sport at the college level. Outside the Ohio State locker room, they told me she was in the stands, where she had been watching warmups, which she was. What they didn't tell me was that she was positively radiating pregame intensity, giving off a serious don't-bug-me vibe. But up I went. After withstanding a withering look (one that didn't really subside much after I explained that I had a legitimate purpose for talking to her), she gave me what I needed and I went on my way.
If you can believe it, I was actually more nervous about looking up Mark Johnson—Badger legend, Miracle on Ice veteran, you know who he is. But Coach Johnson is also one of the most gracious people I've ever met in any walk of life, and he was certainly kind to the new PA guy. His usual routine was to give me the two forwards and the center, then turn to his top assistant, Dan Koch, and have him give me the two defensemen. One time, after we went through this routine, Coach Johnson said to me, "Who should I start in goal?"
Given that this was the season in which Jessie Vetter was earning the Patty Kazmaier award as the top player in the country, I went with her. It turned out to be a good call. The Badgers won that day.