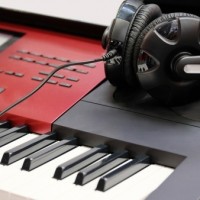 In 1987 I met a Minneapolis songwriter named Craig Schumacher. Like many talented musicians Craig spends his evenings entertaining people in restaurants and jazz clubs, and his days in recording studios working with advertisers.
Craig once created a jingle for a car dealer, but refused to sing their silly idea for lyrics, something like "We've got the best car prices for miles around, a better deal can't be found!"

His subtle feedback was: "That will sound like $**t!"
Craig created the original Magic 98 jingles in the 80s, and every couple years I get to spend a few days in Minneapolis with him and his pals, the best musicians and singers in town. Most radio stations are lazy with jingles, calling the generic production companies in Dallas and Seattle to order a new batch. That's why you hear a similar style on radio stations across the country, but as you can see here Magic 98 jingles are a labor of love.