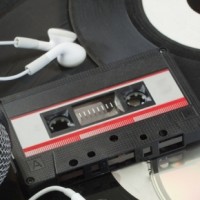 I wish I had some audio of Magic 98's "birth" 31 years ago today. It was bitterly cold. Newsman Bill Short reported a wind chill well below zero. I remember some of the songs I played: "Say it isn't so" by Hall & Oates, "That's all" by Genesis and "Stand back" by Stevie Nicks, now all heard on "Sunday at the 80s."

I had 8 years of radio experience by then, but was nervous the first day. Nothing wrong with that. I still have "butterflies" every morning.

Many radio stations go through major changes over the years, a new name, a format flip, new ownership. Magic 98 has been an exception. Fun music, real people, and a genuine community connection was the recipe then and now.

Oddly enough, two guys that have never lived in Madison had major roles in creating Magic 98. They are Tom and Tim.
Tom is a savvy broadcaster from Illinois, and he has an ear for unique radio stations. Tim is a Michigan guy that grew up loving radio, built his own unique radio station and hosted it's morning show. These two men didn't know each other until Tom vacationed in Michigan, heard Tim, and struck up a relationship. They shared some ideas with the management of WISM-FM in Madison, and the result was Magic 98.