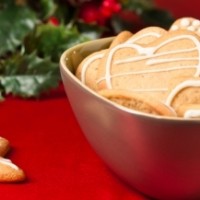 It is never fun to get sick, but it's down right awful at Christmas time!

I have no idea who 'gifted' me with this bug, but I've been laying low

so I don't gift it to anyone else!

I have had several requests for my

shortbread recipe. So here it is as promised! I've tried something new

this year and it's made it a lot quicker! Instead of making little loaves,

I've rolled them into small balls. You have to watch and turn the tray about

twice before the 8 to 12 minutes are up (they only need to be golden)

They are just wonderful with coffee or tea. Hope everyone has lots of

cozy moments this holiday!