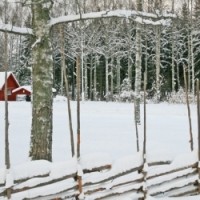 I love this time of year.  I always have.  When I was a kid, the anticipation on Christmas morning was always honed to a fever pitch because we couldn't open presents 'til my Dad came in from the barn after milking the cows.  We would sit around the tree, just staring at the packages and calling the barn every few minutes to get an update.  I know that sounds very little house on the prairie-ish, but that was the deal. 

When I grew up and had kids of my own, we started our own traditions, none of which involved Christmas day chores or barns.  Instead, the kids would never go to bed without hearing me read Twas The Night Before Christmas. That tradition hung on for decades ... that is until my kids weren't kids anymore.  So now some new traditions will start I imagine.  Just what they may be remains to be seen.  I'm looking forward to seeing what develops.  I am not fussy.  The next incarnation of our Christmas holiday traditions can involve my reading something on Christmas eve like the old days, or something else.  Doesn't matter. As long as our family is together for at least part of this season is good enough for me.  After all, that's what I see this time of year being all about.  Being together with those that are closest to you. 

Happy holidays to you and yours.