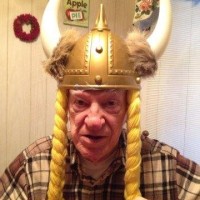 Ed O'Neill's funeral was today. He was 85, had a good life, a great wife (Joan) and two wonderful daughters (Mary and Eileen).
Ed always had an amusing story and a booming laugh. I think he was amused at my occasional on-air poke at him. Unusual listener mail was often credited to "Ed on Sycamore Avenue."

Born in Minnesota, he never gave up on the Vikings, even agreeing to wear this silly helmet a few years ago.
Edward Berrisford O'Neill was my last link to my father, Eugene Francis O'Neill. When my Dad died years ago I didn't find the funeral all that comforting, but the wake that Ed hosted the night before was wonderful – and hilarious. Maybe the Irish do know how to handle death.
Ed served in the Air Force for 24 years in Korea and Vietnam. The military honors he received today were moving.
Thanks, Uncle Ed.