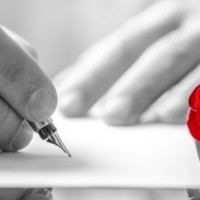 Fans of American Top 40 are split on the Long Distance Dedications. Some people love them, and others find them terribly sappy and dumb. (An American Top 40 researcher once told me the AT40 staff was split on them, too.) Although AT40 didn't start doing them until 1978, Casey been sharing listener letters on his local radio and TV shows for years, on a feature he called "The Sweetheart Tree." He'd read his first listener letter in 1964, from a 12-year-old girl eager to share her experience meeting the Beatles–and it was so popular that it was released as a single, "Letter From Elaina."
If you're like me, you sometimes wonder if the intended recipients of the dedications ever got them. On January 24, 1981, Casey read a followup letter. A listener named Tinny said that two years before, she had asked him to dedicate a song, "You Needed Me" by Anne Murray, to her friend Cal. Cal had befriended her after she arrived in America from New Zealand, helped her kick drugs, and gave her money to get back home. "Cal and I are now happily married," she wrote, "and have been for a year. We have a three-month old baby girl named Casey, after you. We want to thank you. For without that dedication, none of this could've happened. We're the three happiest people in the world."
Great story. And, by the way, probably fake.
Pete Battistini, who's written two books about American Top 40, went back to the archives and checked the shows on which Casey had dedicated "You Needed Me." There had been three of them in 1979 and 1980. None of them were from a woman named Tinny–and none of the three matched the details in the original letter. "As far as I know," Battistini told Fishbowl NY, "it was a fake." Battistini says it's possible that other Long Distance Dedication letters were fake, but the other than the Tinny letter, they'd be hard to prove, and he doesn't know of any examples.
Kinda makes you wonder, though.