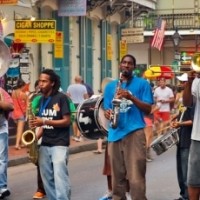 During my research to book lodging for my trip to New Orleans, I stumbled upon a website called airbnb.com. Perhaps you've already used this website. If so, why didn't you tell me how cool it is? 😉 If you're not familiar with it, it's devoted to lodging provided by non-hotel owners. The majority of accommodations are homeowners renting out a bedroom, but I also found some other unique properties.
We'll be staying in Memphis on our drive down to New Orleans, and I was able to find a one bedroom apartment available in the former Cotton Exchange building. It's a beautiful building with loads of history, and it will only cost me $90 +tax on a Saturday night in downtown Memphis!
On our drive back home we'll be staying overnight in
St. Louis
. I was very interested in renting an old renovated carriage house that was across the street from the
Missouri Botanical Garden
, but I waited too long to make the reservation and lost out on it 🙁 Lesson learned: don't assume a unique lodging opportunity will still be available a couple days later when I decide I want to reserve it!
I'm so excited about this trip. Pictures will be coming soon!