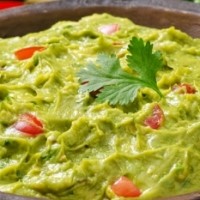 I have concocted my own dip/spread/sauce that several folks have asked me to share. I always make it as a side to go with quiche that has just been taken from the oven. A dollop of chilled guacamole over the hot eggs is such lovely combination. I have also made it to spread on tortillas before adding beans and other Mexican flavors. I use it as a side when I make omelets – and you can't beat it slathered on a burger with a ripe slice of tomato. When I make it as a dip it is always the first bowl empty! With Easter right around the corner, egg salad and hard boiled eggs will be in abundance. It's a great healthy snack food, too.

Simply mash all these ingredients (I use a potato masher) in a chilled bowl:

2 ripe avocados (this means they are black if you've never done this before–not too ripe, brown inside is past prime)
4 tablespoons of sour cream
6 tablespoons of your favorite salsa (I use med. heat with corn and black bean)
1/2 small can of drained mild green chilis
Squeeze a wedge or two of lime
3 drops of hot sauce
1 package of Guacamole Seasoning
Optional: 1/4 cup chopped red pepper for color and flavor

Best when chilled a few hours before serving. Bon Apetite!