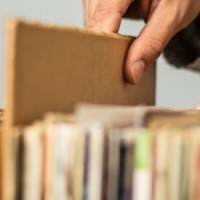 Record Store Day is coming up on April 18th. It's become quite a big deal in recent years, a day to celebrate the unique culture of independently owned record stores, both in the United States and around the world. Vinyl has made a tremendous comeback in popularity over the last few years–and Record Store Day is at least somewhat responsible for that.
When I was a young music fanatic, the first record store I ever frequented was S&O TV, in my hometown of Monroe. The owners sold TVs, stereo equipment, and records up front while they fixed TVs in the back. (I went to school with their kids.) It was there that I bought my first 45s, laying down 95 cents for Van Morrison's "Domino," and "One Toke Over the Line" by Brewer and Shipley and all the rest until I stopped buying singles long about 1973. Singles were cheaper at Gibson's in Monroe—only 88 cents—but the selection wasn't quite as good.
Gibson's (which was a cross between a big-box store and a dollar store) carried records because some independent distributor provided the record rack and stocked the merchandise. Independent "rack jobbers" were the reason why you often saw records for sale at drug stores, department stores, and even at service stations back in the day. I bought several albums over the years at Schultz Pharmacy in Monroe, where they kept the record rack right between the greeting cards and the jewelry counter.
Shopping for records in Monroe was for everyday. Shopping in Madison was a special occasion. Occasionally on a Sunday afternoon, the family would pile into the car and come up to West Towne. To me, Victor Music was the store of all stores at West Towne. It's the place I see in my head when I imagine the quintessential record store of the 1970s: dim lighting, dark carpeting, big speakers cranking loud, and rack after rack after rack of albums, singles, cassettes, and 8-tracks. Victor Music also sold the stuff to play your music on. If I'm recalling correctly, I bought my big honkin' Channel Master 8-track deck there.
After I grew up and moved away, I lived in a small college town in Illinois, which was home to Victrola, which might be the greatest record store I have ever known. It was owned by a grumpy ex-hippie who offered a vast and impressive selection of music, in print, cutout, and used, and I spent a staggering amount of my limited take-home pay there. If you couldn't find something you wanted, you could ask him to get it, but then you'd have to talk to him.
I don't spend much time in record stores anymore. I long ago embraced the culture of downloading, and I don't even have a turntable hooked up at home anymore. But give me some credit for feeling guilty about it every spring around Record Store Day.