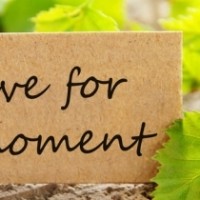 When I got home from work one night last week I was in a horrible mood. I'm not sure why. I guess I felt exhausted and overwhelmed by the list of things I needed to get done around the house. The last thing I wanted to do was take Truman on a three mile walk. But he needs it, I need it, so off we went.
I always feel better once I start walking but on this particular night I just was in no mood. And then … I saw it. One of those little lawn flags that people stick in their gardens or their yards. You know the ones with maybe a holiday theme of Easter eggs and bunnies or a Thanksgiving turkey. Some of just have flowers. But this one was special. This one had a pretty scroll boarder surrounding the words "Enjoy Life". That's it. That's all it said. But for me, in that one moment, that was exactly what I needed to see.
Seeing that flag made me laugh and cry at the same time. Enjoy life. Right on! I instantly let go of what was bothering me and took a deep breath and looked around. My life at that moment was being outside on a beautiful evening with my best friend getting some exercise, enjoying life. The next time I feel tired or overwhelmed, I'll picture that flag, take a deep breath and slow down to … enjoy life.