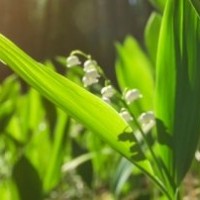 I grew up on a corner lot in suburbia, which means, I had a huge front yard where my family and I would climb trees and play croquet and wiffle ball and badminton to see which of us was best at hitting that weird shaped ball. Our Cocker Spaniel, Max, would always try to capture the ball, no matter what kind it was and we would chase him around and around the yard to get the ball back from him. The memories of my childhood home corner lot are wonderful but it's the memories of our teeny, tiny backyard that makes me become still and reflective.
It was where my mother decided she would create a fairy garden. That tiny space was filled with lavender lilac bushes, pink bleeding hearts, green mint leaves lining a stone path that lead to nowhere and an endless ground cover of little white Lily of The Valley. As a five year old girl, I would sit in the middle of it all pretending to talk to fairies and bake them mud pies filled with mint leaves and the tiny Lily flowers because their aroma was so wonderful. How could anyone resist a mud pie made with little white Lily of the Valley buds?
When my husband and I bought our first house almost 20 years ago in the month of March, little did we know that it too would have lavender lilac bushes, a pink bleeding heart bush, and yards of Lily of the Valley perfuming the yard. I think it was fate bringing me home.
Things sure have changed in the past 40 years. I find it amazing how powerful scents can be. Whenever I smell those first buds of Lilacs or Lily of the Valley in early to mid May it will forever take me back to making mud pies, talking to imaginary (or real) faeries and my mother's warm smile and kind hug as she remembered what it was like to be a child in springtime, in nature, talking with faeries and in love with life.