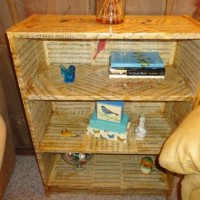 One of my hobbies is finding old pieces of furniture at garage sales or thrift stores and giving them a new purpose and a new life. Chalk paint is a wonderful way to make something pretty again. But I decided to try my hand at decoupage. I had an old white particle board bookcase sitting in my garage waiting for a make-over. I found it sitting on a curb just waiting for the garbage truck to pick it up. I picked it up instead and have been waiting for an idea to hit me as to what to do with it.
One day while I was spring cleaning I found an old book of accordion sheet music my mother had given me. She started learning to play back in 1949. Then it hit me. I was going to decoupage all that beautifully aged sheet music onto the bookcase. I picked out the best song titles like Chattanooga Choo-Choo, Anchors Away and The Old Grey Mare. It took an entire weekend but I had a lot of fun being creative and now I LOVE it. I cut out birds from a very old bird book and decoupaged them in different spots for added effect. Since this was my first attempt at decoupage it isn't perfect. There are a few wrinkles and bubbles in the paper but I think it adds to the vintage look I was going for. Total cost for the project was the $20 I spent on the glue. That's it.

Repurposing old furniture is fun and inexpensive way to be creative. Don't be afraid to give it a try.