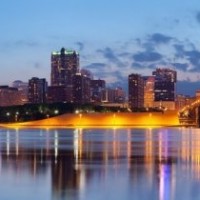 … or at least I was about a month ago. My husband and I spent a fun 3-day weekend in St. Louis. I used to visit St. Louis occasionally when I lived in Springfield, llinois in the early '90s, but over the last 14 years I had forgotten how much I love the city. It's only about a 5 – 5 1/2 hour drive (with only one toll just south of the WI/IL border!) from the Madison area, so it's doable for a weekend getaway.
My husband and I especially enjoyed Soulard Market which shares some similarities with the Dane County Farmers' Market, but it's open four days a week in the same location year-round. If anyone in your family is really into trains, then you can't miss The St. Louis Museum of Transportation. The museum is heavily focused on trains, but you'll also see lots of vintage cars and delivery vehicles. Back in the day, St. Louis had its fair share of automakers. I'm so used to the "Big 3" American automakers and I never realized that cities other than Detroit also used to produce vehicles 100 years ago or so. My husband and I had already been up in The Arch on previous visits, so we skipped that attraction this time. If you're claustrophobic, you might want to skip The Arch permanently. The tram ride to the observation area is rather "close" shall we say?
If you know of a well-kept secret in St. Louis that more people need to see, please let me know (sara@magic98.com) because I know my husband and I will be returning there in the not-too-distant future!