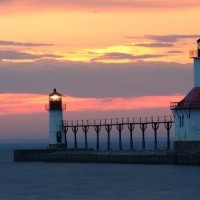 Summer will never hold the same meaning for adults as it does for kids. It's just a wonderful three months full of memories and traditions you try to relive or want to pass on to your own kids. Here are my youthful summer vacation memories.
June brought that feeling of letting out a deep breath and being able to relax and be a kid. Those early June vacation days were filled with making mud pies in the backyard, helping my mom hang laundry outside on the line, planting my own little patch of radishes in the garden and begging to run through the sprinkler. Then there was Vacation Bible School to look forward to at the end of June. A whole week of half days filled with crafts and competitions and friends with a big presentation at the end of the week for all our parents.
The beginning of July always brings that excitement of the 4th with lots of fireworks to look forward to. My parents would buy a few packs of fireworks for my brother and I filled with sparklers, snakes, colored smoke bombs, spinners that screeched and firecrackers. We would light the smoke bombs and snakes during the day while my dad burned the hot dogs and burgers on the grill. Then when it got dark we put an old board on the end of the driveway and shot off all the crazy stuff. Then my brother and his friends would climb a ladder to the top of our roof to get the best view of the town fireworks shot off from a couple of miles away. I was too afraid to ever climb to the roof so I sat in my mom's lap in a lawn chair at the end of the driveway to see them. The trees blocked the view a little bit but they were still fun.
The rest of July was filled with summer camp. It was my favorite part of summer. Three weeks at summer camp every single year. I was a Pioneer Girl and my best friend, Cheryl and I went to Pioneer Girl camp together for years and years until we were too old to go anymore. Cheryl always signed up for the crafts and I always signed up for nature hiking or horsemanship. That's where we both learned to swim and canoe and build camp fires. We still know all the words to all the silly songs like "Little Rabbit Foo-Foo". Nights by a big camp fire with the counselors playing their guitars and a big group of girls all bonding in nature, singing the moon to the top of the sky is such a fabulous memory. I never got homesick. I cried when I had to go home and say goodbye to my new friends. My last week of summer camp was at a different camp in Ludington, Michigan. We stayed in real covered wagons with bunk beds built inside them and all we did during the day was ride horses, clean stalls, and ride horses again and learn everything we could about horses. I was in horse heaven.
When August came it was my turn to spend an entire week at my grandma's house in Kalamazoo. My brother got his turn while I was away at camp. But as soon as I got home from camp, my mom washed my clothes and packed up a suitcase again for my week away with one of my favorite people in the whole world. My grandma would take me to the old Woolworth lunch counter there for lunch and a malt on our first day. Then we would go shopping at Gilmore's (where she worked for years) to shop for back to school clothes and a birthday gift for my dad. Other days were spent helping her in her garden or going to her friend's home who had dogs and a swimming pool. She even took me horseback riding a few times or we'd go watch harness racing at the fair. When I was real little I would sleep in her bed and she would read me stories all night long until I fell asleep. Sometimes we would just spend days going through all her dresser drawers of jewelry. I will always remember my summer week with grandma.
She was more than just my grandma. She was my friend. She passed away 10 years ago and I still miss her every day. The middle of August was the Berrien Co. Youth Fair and every year I would find something to enter from photos, flower arrangements or some other type of craft project to even my hamsters. I still have all my 1st, 2nd and 3rd place ribbons in a box somewhere. Some of my best memories of the fair are from when I was older and could double date with boys. My friends and I would go on all the rides with the boys we liked. Riding the Ferris wheel at night with a boy you have a crush on is the best feeling in the world.
And in between all these memories I made even more by hanging out at the beach all day on the fabulous beaches there in southwest Michigan. I'd take my transistor radio and bake in the sun all day listening to all those 80s hits. At night my friends and I would cruise the beach or sometimes walk out on the St. Joe lighthouse pier and just talk. Sometimes we'd climb the lifeguard tower and listen to the waves roll in and watch the sunset. Some of the best sunsets in the world can be seen from right there along the shores of Lake Michigan.
Yes, I'd have to say I loved my summers as a kid more than I do as an adult. But as I sit at my computer writing this I can look out my window and watch the sun setting through the clouds and close my eyes and remember it all just like it was yesterday. I'm thankful for all those wonderful memories. Especially the one sitting on a porch swing with my best friend, eating ice cream, watching the heat lighting. He knows who he is. I hope he remembers that too.