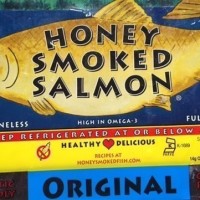 My friend Kurt stopped by Magic 98's table at Concerts on the Square to share his specialty smoked salmon spread. I promised our table guests that I would share it. Bon appetit!
Kurt's Smoked Salmon Spread
1 package smoked salmon from Costco (aprrox 3/4 lb)
1 small tub of Philadelphia Cream Cheese w/ chives
1 tbsp of mayonnaise (may need two)
Dash or 2 of black pepper
Few dashes of Cholula sauce
Approx 3 tbsp finely minced, sweet onion, caramelized
Notes: Smoked Salmon – choose moist over dry, remove
darkened areas. Place in food processor for a few pulses to break it up. T
oss all ingredients in mixing bowl – start with a fork, end with a spatula.