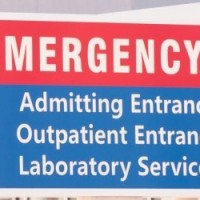 My husband was injured badly on Sunday night, 8/30, after falling from our deck about nine feet down to the concrete below. He was rushed to the Meriter Hospital emergency room where they determined he had 10 cracked ribs, three broken lower vertebrae, some internal bleeding, and an open wound on the back of his head that required several staples. They decided hat he needed to be taken to UW Hospital, so back we climbed into the ambulance for another ride at about 3:15 a.m. I was developing a mental checklist throughout this entire ordeal. First on this list was "is he going to die?" Luckily that question got answered quickly and negatively! Next question: Is he going to be paralyzed from the neck down? We found out around 7 a.m. Monday that he hadn't broken his neck and would not be paralyzed. My third major question was "is he going to require any type of surgery on his ribs or lungs?" That question took a little longer to get answered, but by late afternoon on Wednesday we found out that no surgery would be required. Talk about so many sighs of relief!

Keith was in the hospital for a total of 7.5 days, so – by the time he was starting to feel a little better- that comes out to about 5 days of lots of teasing of the nurses taking care of him! He's home now and taking things about 50% of his usual pace until he recovers fully. It's truly amazing how much he has recovered in such a short time. I think he's made of gristle 😉
I never mentioned any of this on the air because I just wasn't sure I could do it without getting choked up. I know it's almost a cliché, but your life really can change in the blink of an eye. I can't wait to give my husband a big bear hug, as soon as his ribs can handle it!